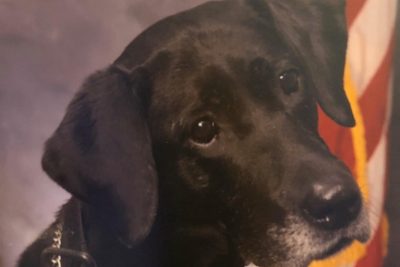 K-9 Rose (Served 2005 to 2013)
Guernsey County FOP Lodge 136 in conjunction with the Guernsey County Sheriff's Office is working with Andrew Daymut on his Eagle Scout service project. The service project is the erection of a law enforcement K9 memorial monument to honor and remember the immeasurable sacrifices made by the working dogs who protect us. The monument will consist of a bronze Labrador Retriever statue to memorialize K-9 Rose, the Sheriff's Office first working dog. Supporting the statue will be a marble hexagon pedestal that will be engraved with the names of  K-9's over the years. All of these will be rested on a brick patio located adjacent to the front entrance of the Guernsey County Law Enforcement Center. In order to accomplish this mission, we are for donations to help us honor our K9's with this monument. Your donation will include a custom engraved brick placed around the memorial for you and your family to see for years to come.
Provided below are three choices for donations. Gold, Silver. Bronze and Multi Donor donations. Included with each donation is the donor's choice for what they want inscribed on the brick. The larger the donation and brick size, the more lines of text that the donor may have inscribed. The Multi Donation Brick will have one line of text included with other donor's inscriptions. Please choose your Brick below by clicking anywhere on the description.
– All contributions will be gratefully acknowledged and are tax deductible.
– We use Paypal as our payment processor so your information is always secure.
Choose Your Donation Level: